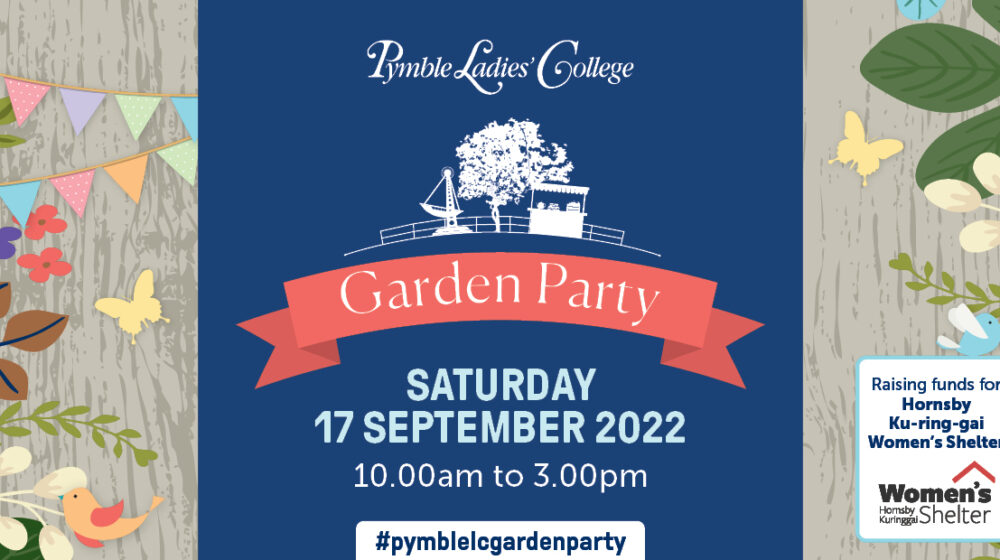 Garden Party
Pymble's biggest party of the year is nearly here!
After a two-year hiatus due to COVID-19 and flooding, we're thrilled to have Garden Party back on our College calendar of events.
The Garden Party will be held on campus on 17 September from 10.00am to 3.00pm, so make sure you've added this fun family day out to your diary.
We hope all members of the Pymble community will come along to join in the fun, soak up the sunshine (fingers crossed) and enjoy the wide array of fabulous food, coffee, entertainment, rides, games, produce, arts and crafts, plants, gifts, toys and much more!
* Due to the sheer size of the event and for the health and safety of our guests, please note that dogs (or any pets) are not permitted on the College grounds at Garden Party.
Have a picnic on Main Oval
Our beautiful Main Oval is still damp from the significant rainfall over the last few months, so we have made the decision not to have rides on Main Oval this year. Rides will be located on the outskirts of the oval near Flagpole Lawn.
Instead of the rides, we will have a sports zone hosted by the Pymble Sports Department consisting of Tennis, Football, Rugby, Rowing, Running and Biathlon Laser Rifle Shooting.
There will also be a lot of lovely green open space on the oval for you to bring a picnic blanket or chairs and enjoy a relaxing lunch in the sunshine. Please note there will be nowhere to store these, so you will need to carry whatever you bring along throughout the day.
ATM available
All stalls at Garden Party will accept both cash and EFTPOS. There is also an ATM available in the Middle School Colonnade should you wish to withdraw money.
Unlimited Rides Pass now!
Attendees can purchase an Unlimited Rides Pass allowing them to go on as many rides as they want at Garden Party. This is great value for money and is sure to keep the young ones entertained over the course of the day.
You can purchase your Unlimited Rides Pass for just $30 by clicking here. Online ticket purchases will close at midday Friday 16 September!
Unlimited Rides Passes will be available for purchase at Garden Party, however they will cost $35.
Boarders Getaway Live Auction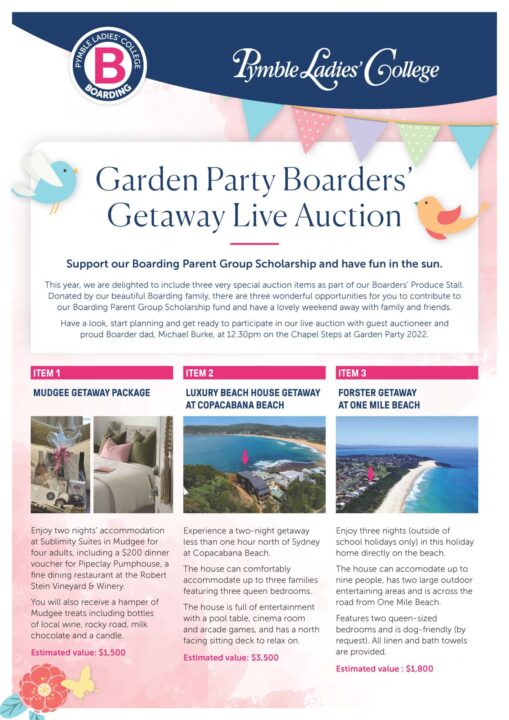 Portobello Road Markets
There will be numerous stalls at Pymble's own Portobello Road catering to everyone's tastes and interests. Here's a small sneak peak of what you can expect.
Jewellery: stunning jewellery for both men and women, featuring French, handmade, modern, gold and silver, gems and crystals – there's something for everyone.
Hats and bags: spring time is almost here, and what better way to bring in the new season than by refreshing your wardrobe with some new fashionable hats and bags?
Handmade wooden cheeseboards, coasters and charcuterie boards: whether you're looking for an easy way to feed some guests or you'd rather keep it for yourself, whatever you do, don't miss out on checking out these stylish handmade charcuterie boards.
Christmas products: Christmas is fast approaching – but instead of leaving things until the last minute this year, why not stock up on all your essential festive items at Garden Party? There will be premium quality products such as bon bons, wrapping paper, ribbons, tags, tinsel and a whole lot more.
Lots of delicious food and drink choices
When your hunger hits, treat yourself to our fabulous array of food and drink choices, featuring Sri Lankan, Korean and Japanese cuisine, hot chips, gozleme and more.
The kids will love the fairy floss and snow cones, while the grownups can relax and indulge in some Pimms and Lemonade, topped off with Pymble's famous Chicken and Champagne Stall!
How to get to Garden Party
As parking will be limited on the day, we recommend families catch the train to Pymble Station from where our campus is only a short five-minute walk away.
Check out our fabulous 2019 Garden Party!