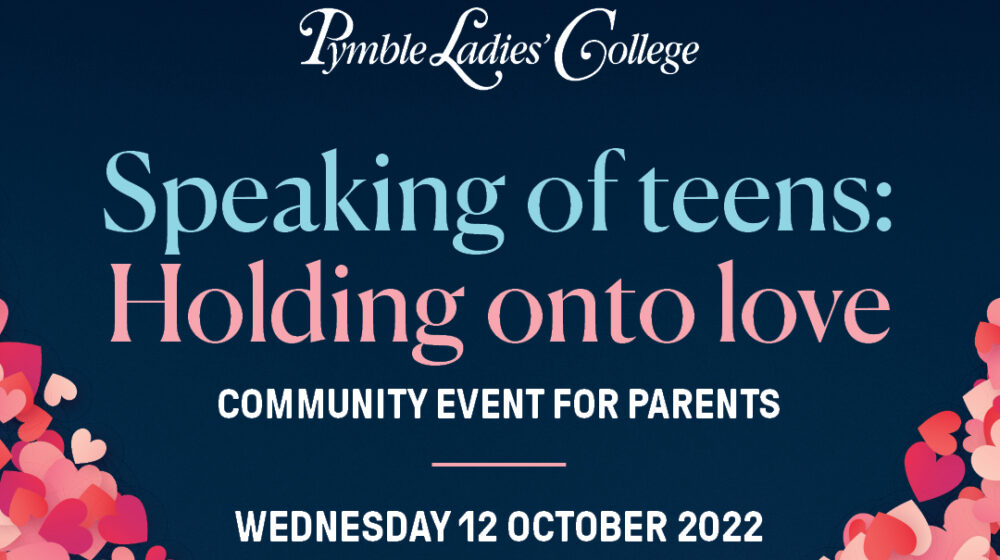 Speaking of Teens: Holding onto love
Pymble Ladies' College is delighted to present a special parent event, Speaking of Teens: Holding onto Love. Exploring positive and proactive parenting strategies, this Healthy Habits Event aims to tap into the love, hope and optimism we share for our daughters without being caught up in the drama that can dominate the teen years.
As parents, we don't just want to survive these years, but to find a way together to enjoy them; to have meaningful discussion with our daughters, celebrate their accomplishments, live in each ordinary moment and be able to look back on a cache of memories we have spent years building with gratitude and love.
An expert panel including John Vassiliadis, Madonna King, Donna Cross, Michelle Chevally Hedge, and Brad Marshall, will discuss evidence-based approaches to mental health, digital intelligence and building solid foundations of communication for parents and carers of teenage girls.
Date: Wednesday 12 October
Time: 6.30 to 8.30pm
Venue: GMCPA, Pymble Ladies College
This event is free of charge but bookings are essential.
Learn more about our expert panel
John Vasiliadis is an Emergency Medicine Specialist at the Royal North Shore Hospital and is currently the Director of Prevocational Training. He is a Naval Reserve physician, achieving the rank of Captain in recognition of his service. John also works as a Clinical Lecturer at Sydney University and enjoys mentoring and teaching. A Pymble parent and a member of the Pymble Health Care Advisory Group, John meets with our leadership team on a termly basis to discuss and inform us on various topics relating to our student wellbeing agenda.
Madonna King is well known for her work as an award-winning journalist of three decades and a best-selling author who specialises in parenting, politics and education. A skilled researcher blessed with the ability to hone in on the most salient questions, she has developed well regarded expertise in the issues confronting teenage girls, particularly through her books Being 14, Fathers and Daughters and Ten-ager. Her knowledge has been sought by governments and corporations that want to better understand this particular population. She is a featured journalist for Crikey, Nine and The New Daily, the host of ABC Radio Brisbane Mornings and has served as the Chair of the Queensland Government's Anti-Cyberbullying Taskforce and on the Walkley Advisory Board.
Professor Donna Cross of the School of Global and Population Health at the University of Western Australia is hailed for her published research in the field of children's wellbeing. She was previously the Founding Director of the Child Health Promotion Research Centre at Edith Cowan University, and Program Head of Health Promotion and Education Research at the Telethon Kids Institute. A celebrated child health advocate and academic, Donna leads a team of 27 researchers in developing and testing strategies to improve the mental health and social-emotional wellbeing of children and adolescents.
Michele is an established nutritionist and health writer and the founder of 'A Healthy View', a program for clients invested in developing corporate wellbeing strategies. She is an ambassador for Cure Cancer and the Heart Research Institute, and a former Australian Traditional Medicine Society Practitioner of the Year. Faithful to an evidence-based approach to nutritional science, Michele is a member of the Australian Traditional Medicine Society and a Mental Health Award of Australia finalist.
Known as 'The Unplugged Psychologist', Brad Marshall specialises in the nexus between the mental health of children and teenagers and their technology diet. He is the Director of the Screen and Gaming Disorder Clinic and established Northshore Kidspace. Brad has held positions at the Royal North Shore Hospital, as well as Blacktown Hospital and Ryde Hospital where he has worked as part of the Child and Adolescent Mental Health Service. He is also an accomplished author and a regular contributor to parenting website KidSpot.
For any queries please contact Community Engagement at communityengagement@pymblelc.nsw.edu.au