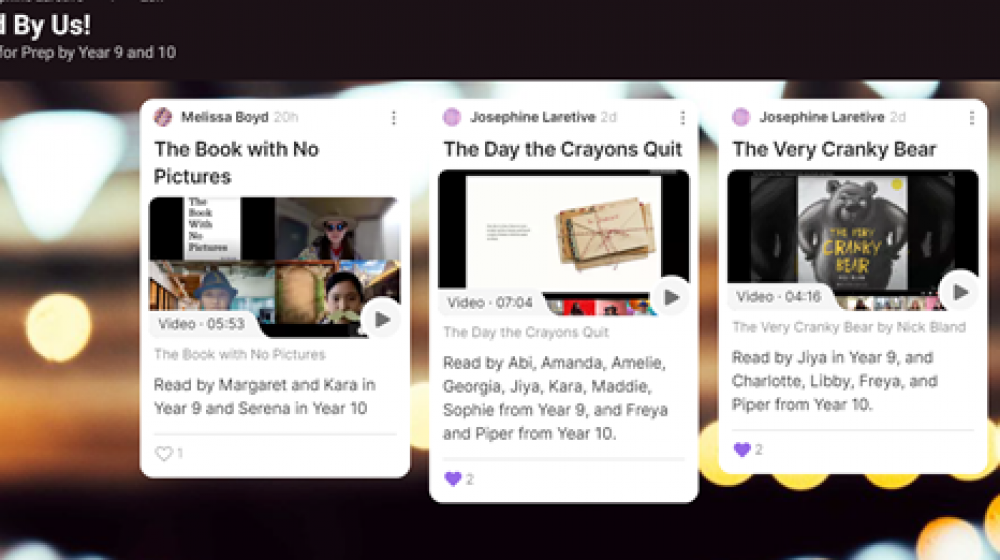 Read By US (Upper School) with Love
Three of our Upper School Leaders, Senu, Felicity and Jiya, have been leading an extremely cute initiative linking our students with the Preparatory School.
"This week, we had the opportunity of kickstarting the 'Read by US (Upper School) with Love' project. This new fantastic service initiative allowed students in Upper School (both Years 9 and 10) to read a storybook to the youngsters in the Preparatory School.
Whether it's reading the absolute all time-faves, The Cranky Bear or The day the crayons quit, girls in the Upper School showed their absolute enthusiasm and enjoyment in reading such classic tales. When starting this initiative on Monday, we were pleased to see girls dressed up in the coolest of costumes and manifest their best impersonations to bring characters to life. It was an incredible experience to watch the girls interact with each other, exchange many laughs, and share such a magical virtual experience. The videos the girls made are going to be uploaded to a padlet for the preppies to watch in hopes of getting some giggles, likes and comments.
We also hope that by introducing this initiative, parents are provided with enough time to take a break from the screen and all the struggles that come with online learning and spend time for themselves. We believe this is a really good way of establishing a connection between the Preparatory School and Upper School students, even in these times where the student body is online. As student organisers for this program, we are super keen to see more girls in the Upper School become involved and seek pleasure in etching a smirk or even wide smiles on the young faces of many." – Jiya, Senu and Felicity