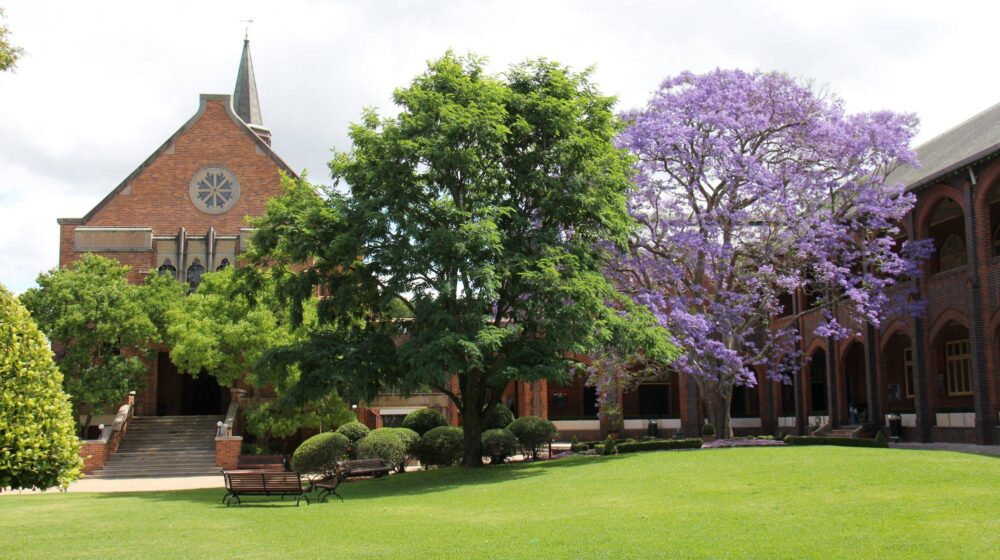 Happy 75th Birthday to our majestic Jacaranda Tree
The Jacaranda Tree on Gloucester Lawn is one of the most memorable and recognisable elements of Pymble Ladies' College. For as long as 75 years, generations of girls have been eating their lunches under the watchful gaze of our tree.
Lots has been done in order to commemorate the beauty of our Jacaranda tree including our gorgeous Jacaranda window in the Chapel and our yearly Jacaranda Day Services when the flowers are in full bloom, but among the girls, little is known about its origin.
On 22 November 1946, Princess Alice, Duchess of Gloucester, made her first visit to Pymble Ladies' College. She arrived at 12.30pm so subtly many students continued chatting, not realising her presence. Together with Mr Vicars (Chairman), Mr McIlrath (Ex-Chairman) and Miss Knox (Principal), the Duchess of Gloucester enjoyed a lunch, waited on by Ruth Gray (Head Prefect) and Wendy Corner (Senior House Prefect).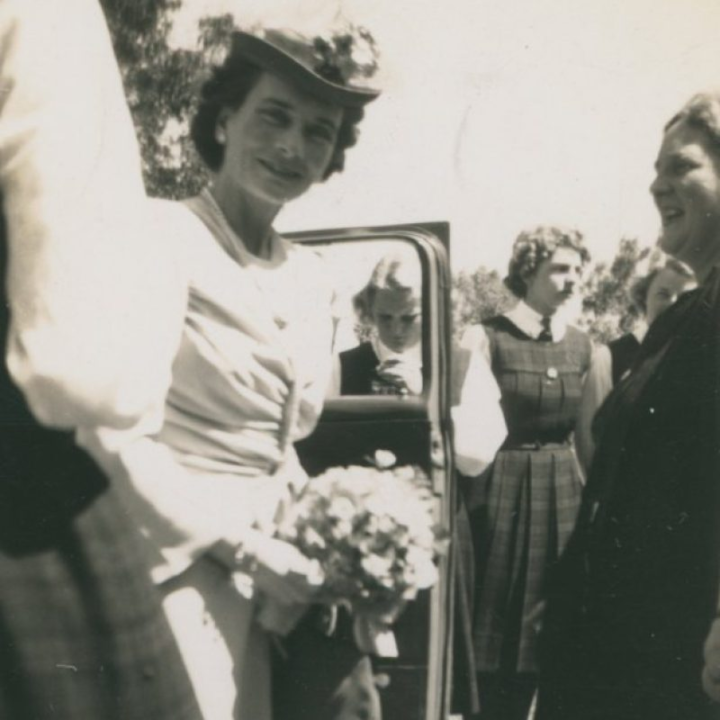 At 1.15pm, she visited the Preparatory School where she entered the assembly hall and was given a polite but elated welcome by the students. She was presented with a posy, and it was then that Miss Knox announced that a Jacaranda was to be planted in memory of her visit in replacement of an Acacia tree that had sat there previously. Three delighted cheers later, the Duchess of Gloucester left.
In the year 1947 on 25 February after assembly, the visit was commemorated by Miss Knox, staff, prefects and class captains who took part in a ceremony planting a Jacaranda tree in Gloucester Lawn. Miss Knox spoke of the honour conferred on the College by the visit of Her Royal Highness, and explained she was not able to plant it on the occasion of her visit the previous year due to time constraints.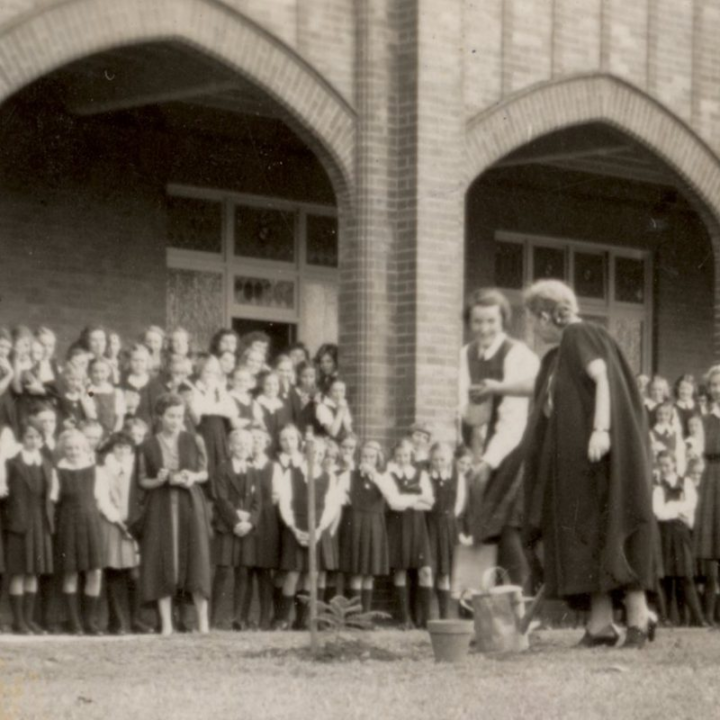 In 1983, Mrs Raj Ram, a long-serving Science teacher at the College suggested the commencement of a Jacaranda Day Service.
During this service, the College gathers in spring when the tree is in full bloom to distribute gifts and money to various charities."Every year, this majestic Jacaranda flowers at this time of great rush and stress, as though to convey to us, through its serene and tranquil beauty, a message of peace, harmony and hope for mankind. We should, indeed, be grateful for its message of selflessness and trust in humanity." – Mrs Raj Ram, Science Teacher (1984)
This was only the beginning of the College's celebration of the Jacaranda tree. On 28 July 28 1996, a group of ex-students gifted the Chapel one of its windows, marking the 80th anniversary of the College. To this day, the window sends streams of purple into services.
In 2016, Pymble Ladies' College's Year 2 students dedicated a charming story to the Duchess of Gloucester and her visit in 1946. With the help of Mrs Jacqueline Harvey, class 2E created a colourful and detailed book that allowed them to better understand the long history of the College.
Written and researched by Heritage Archive volunteer Rachel (Year 10). Rachel and Angelina (Year 10) are curating a creative display around the Jacaranda tree.